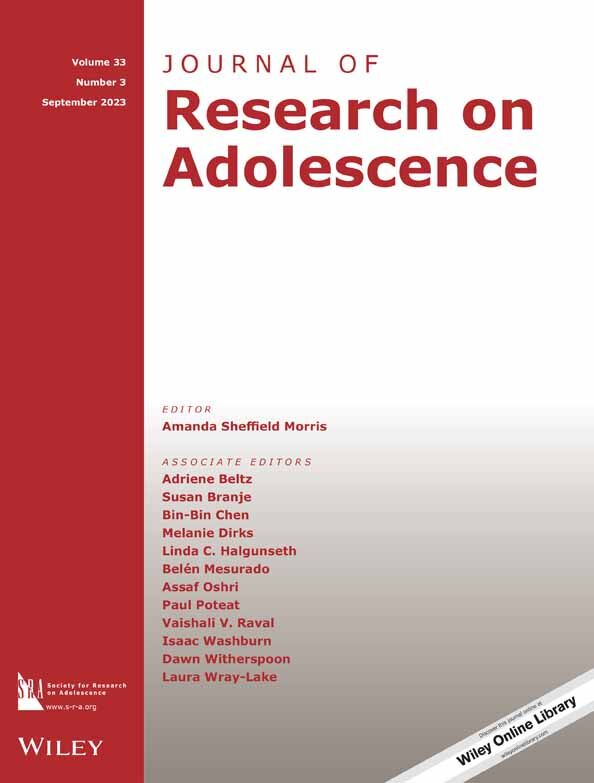 The Journal of Research on Adolescence is a quarterly peer-reviewed academic journal. It is published by Wiley-Blackwell on behalf of the Society for Research on Adolescence. Amanda Sheffield Morris is the editor-in-chief. The journal for research on adolescence uses both quantitative and qualitative methods. Methodologies apply to different purposes that include physical, emotional, and social development.
According to Journal Citation Reports in 2021, the Journal of Research on Adolescence has a 3.563 impact factor. It was ranked 9th out of 48 journals in the category "family studies." The number was 29th in "Psychology, Developmental" out of 80 journals. University faculty and students in fields like psychology, sociology, education, and criminology must study different less-studied ideas.
Previous associate editors at this Journal of Research in Adolescence include Jacquelynne Eccles, Stephen T. Russell, Nancy Guerra, René Veenstra, Sandra Graham, and Noel A. Card.
History of the journal
The journal was established in 1978, and Wiley Blackwell was the publisher. It is a peer-reviewed scientific journal for primary research on adolescence.
This journal about adolescence is unique among developmental journals. It is under the ownership of a British charity that funds conferences and training for professionals working directly with youth.
Society Information
The Society for Research on Adolescence (SRA) was formed in 1984 as an international, multi-disciplinary, and nonprofit professional association. The goal was to understand adolescence through research and dissemination. Members conduct theoretical studies, basic and applied research, and policy analyses. The whole process is to understand and improve adolescent development. There are currently 1,437 members from 36 countries.
Research Areas
The Journal of Adolescence encompasses a diversity of interdisciplinary studies. It includes:
A developmental perspective on the disturbances and disorders of adolescence
Adolescent development particularly emphasizes social, cognitive, and emotional functioning.
Resilience, positive development, and effective coping are the premises of adolescent development.
Research on public health approaches and interventions reduces risk or supports positive development.
The Journal of Adolescent Research seeks papers that strongly focus on theory and have a clear developmental focus. They seek to publish papers that address less studied populations or that examine contextual variation in developmental processes. It also publishes systematic review articles and papers focusing on the methodological implications.
Indexing information
There is a long list of indexing information, including:
Academic Search Ultimate (EBSCO Publishing)
CINAHL: Cumulative Index to Nursing and Allied Health Literature (EBSCO Publishing)
Education Source (EBSCO Publishing)
Educational Administration Abstracts (EBSCO Publishing)
Embase (Elsevier)
Urban Studies Abstracts (EBSCO Publishing)
Violence & Abuse Abstracts (EBSCO Publishing)
Web of Science (Clarivate Analytics)
Impact Factor Journal of Research on Adolescence
The impact factor (IF) or journal impact factor (JIF) is an important factor that reflects the yearly mean number of citations in the last couple of years. Consider it a frequently used proxy that shows the relative importance of a journal within its field.
The impact factor of the Journal of Adolescence is 3.563, which is quite impressive. It is internationally recognized as an interdisciplinary social science journal. Change, or age-specific phenomenon, in individuals 10–25 is covered in the journal. It is explicitly developmental.
The Open Access Advantage
Open access has plenty of advantages. On comparing open-access articles to subscription articles, Wiley found:
Open-access articles got more than four times more views than subscription articles.
Articles with open access received twice as many citations as paid articles.
Open-access articles received Altmetric attention over five times more than not-open-access articles.
Permissions
You can request via the RightsLink© automated permissions service to reproduce material from John Wiley & Sons publications.
Locate the article from the reproduction in the Wiley Online Library.
Select the Tools widget below each article header.
Choose Request Permission from the drop-down menu.
Complete the form and submit the payment.
You will not require any prior permission if you want to reuse your published article in a new publication of which you are the author, editor, or co-editor. However, you can download a formal grant of license from RightsLink© free of charge.
Wrapping up
JoA is an interdisciplinary research journal that focuses on new and less-studied ideas. It doesn't publish articles that primarily focus on validating established measures in new cultural contexts.
Adolescence Journal seeks to publish papers grounded in theory and contextualize developmental focus. They publish qualitative, quantitative, and mixed-method research. Systematic review articles and papers provide reviews or practical guidance on important topics relevant to developmental methodology.